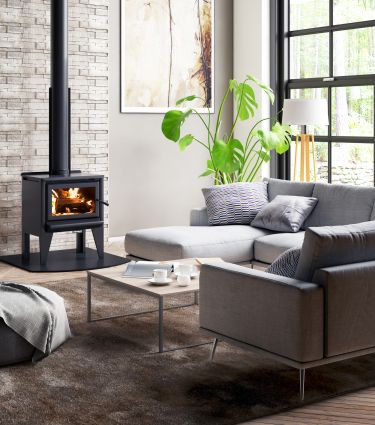 Wood Fires
Add a warm, classy touch of ambience to your living areas with our freestanding or inbuilt wood fires. Reduce your energy bill with an eco-friendly wood burner and enjoy immunity to those chilly NZ winter months. A wood burner adds cosy architectural vitality to your home - perfect for entertaining and relaxing with friends and family.
Lower energy costs
Reduce your impact on the environment with less carbon dioxide emissions. Seasoned garden prunings can also prove to be a free source of fuel.
Cosy warmth
Nothing beats the radiating warmth and soothing sound of a wood fireplace.
Environmentally friendly
Wood is a sustainable resource, which means using a wood fire can help reduce your carbon footprint.
A romantic and relaxing escape
A real fire creates an unmatchable atmosphere for inspiring romance and boosting your mood. Enjoy relaxing with loved ones and watching the dancing flames of our wood burners.
We've chosen some of NZ's best home heating brands to offer you a wide selection of innovative, high-quality wood burners.
Our Top Pick: The Masport Waimakariri Ultra Low Emission Burner
Inspired by the beauty of the Waimakariri river that flows through the heart of Canterbury. The Waimakariri Ultra Low Emissions Burner is the next step in Masport Heating's quest to preserve New Zealand's natural beauty. Utilizing unique catalytic combustor technology, the Waimakariri is our smaller freestanding ULEB that still provides a clean extended burn and meets today's heating requirements for small to medium homes.
Our Top Pick: The Nectre N65
The Nectre N60 is beautifully compact but yet powerful enough to heat around 140m2 of living area. With its high efficiency rating and modest heat output, the Nectre N60 is a welcome addition to your living space. Its curved sides and portrait orientation sets it apart from your traditional woodfire and it promises to complement a wide range of home decors.
Contact
Would you like to contact us with a question, comment or request? We would like to hear from you so we can help you further.