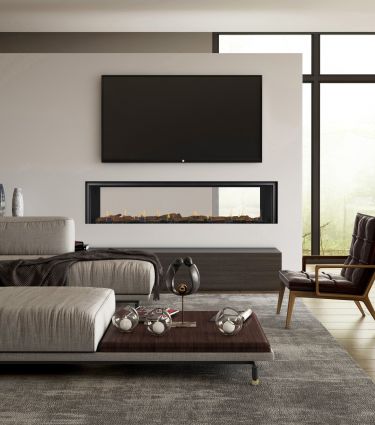 Gas Fires
Here at Ignite Fireplace Studios, form and function align to produce the best gas fireplaces New Zealand has to offer. Choose a sleek, modern fireplace to star as the focal point of your room. Come home to the inviting warmth of a real flame gas fire - ready at the push of a button.
High performance
Fill your living space with the instant warmth and comfort of gas heating.
Intelligently controlled
Perfect for the New Zealand climate, use the WiFI-compatible remote control to adjust your heating system and beat the chill.
Efficient
Our gas fires feature a high heat output, with low gas consumption to help reduce energy bills.
Versatile
Unlike your usual free standing gas fires, our sleek styles feature a recessed fireplace installation to save space,
Our elegant, heat-generating range of gas fireplaces combine cutting-edge design and technology to bring you the cosy ambience of real flames. Choose from traditional or contemporary styles with driftwood, pebbles, logs or coal displays.
Real Flame
Make a statement in your home with a modern Ignite gas fireplace. Make your spaces come to life with beautiful flames and glowing embers showcasing elegance, power and innovation.

Our Top Pick: Element 1200
One of our most energy-efficient gas heaters - the Element 1200 - showcases Australian-made, state-of-the-art functionality. Choose your desired gas fire media display, from driftwood, logs, or pebbles and coal to create the authentic and intimate flame display of your dreams. A power-balanced flue provides installation flexibility in two-storey homes and apartments.
Contact
Would you like to contact us with a question, comment or request? We would like to hear from you so we can help you further.