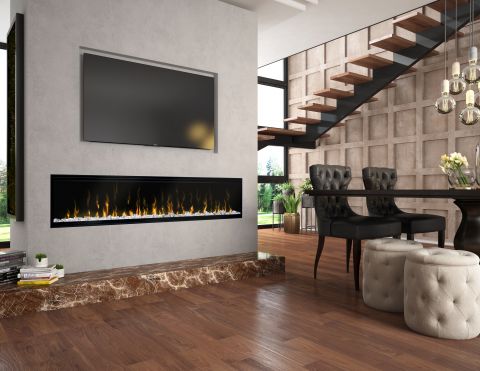 What is the Real Flame Ignite XL?
3 min read
Here at Ignite Fireplace Studios, we know that gas and wood fires aren't necessarily for everyone. This is why we offer a range of incredible electric fireplaces as an easier and safer, yet just as visually stunning, alternative for your home.

With one of our most popular electric fireplaces, the Real Flame Ignite XL, you can enjoy the warmth and cosiness of a real fire with none of the fuss of burning wood or using gas. Of course, the right fireplace doesn't stop with turning up the heat; the Real Flame Ignite XL also adds a captivating visual, ultra-contemporary style and unrivalled functions to your home, so you can relax and unwind in style. 
So, why choose a Real Flame Ignite XL?
Stunning aesthetics
It would be hard not to be blown away when you walk into a room and see the impressive look and feel of the Ignite XL. It creates such a unique focal point in any home thanks to the incredible state-of-the-art flame effect and new, patented heat technology. These create an extremely lifelike fire that uses impressive LED light flame technology to accurately replicate the colours and behaviours of real flames so that it looks (and even sounds) like the real thing. 
The actual fireplace is also designed with sleek edge-to-edge glass to give anyone an impeccable panoramic view of the dazzling flames from absolutely any angle. You can also choose from multiple colour themes to ensure your home's new addition fits in flawlessly, whatever your style or taste. 
Customisable sizing and themes
No matter what size your room, you can choose from a range of sizes so that the XL fits perfectly into any living space. Choose from a 50", 74" or 100" edge-to-edge glass screen and let the fireplace steal the show. You don't just have the option to choose the sizing either; you can also personalise your fireplace by deciding between a diamond-like acrylic ice ember bed or a driftwood and river rock theme, depending on which fits the aesthetic of your room best.
Effortless installation
The magic of electric fireplaces is that they don't require a flue, which means this fireplace can be fitted anywhere in your home, from your downstairs living room to an attic bedroom, quickly and easily. As there's no chimney or gas line involved in the fitting, IgniteXL is ideal for homes, apartments and high rise buildings.
Custom functions
Whatever your mood, you can adjust the settings of your Ignite XL to reflect it. It has the remote-control capability so you can easily and instantly adjust the heat and colour schemes from the push of a button - You won't even need to get up from your sofa! Adjusting the heat of the fire means the fireplace can adapt to suit the seasons easily and you can enjoy the ambience that the ultra-realistic flames give off, even during the heat of the summer. 
If we've set your imagination on fire and the Real Flame Ignite XL fireplace sounds like the one for you, then get in touch today to organise adding one to your home set up. Ready to transform the look and feel of any room?

Types of Fireplaces Explained
Whether your home already has a fireplace or you're looking to have one built into your space, it's important to know that there are different types out there.
3 mins read