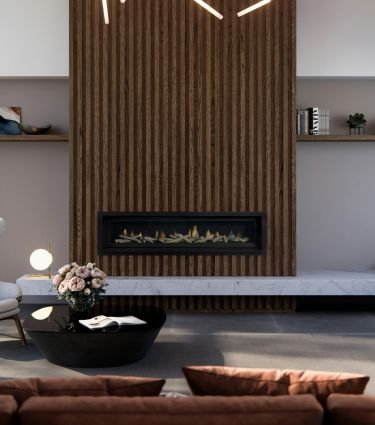 About Ignite Fireplace Studio
We believe everyone should be able to enjoy the gentle warmth, crackle and glow of a stylish fireplace in their own home. Ignite Fireplace Studio is committed to bringing together the world's most innovative brands from North America, Europe, New Zealand and across the Tasman to deliver exceptional fireside experiences that can be shared with friends and family.

Explore our range online or visit our Auckland studio to see how you could enhance your living area or add a special feature to your design project. We have everything from luxurious wood, gas and electric fires to app-controlled smart panel heaters.
Gas Fires
Our brands pride themselves on their history of innovation and cutting-edge design techniques, which is why gas fireplaces have become a great way to liven homes with the comforting glow of an authentic flame display. Discover how our gas fireplaces integrate with technology to bring added convenience such as remote-control functionality, responsive heat control and WiFi compatibility.
Electric Fires
From traditional to the most ultra-modern styles, our extensive range of electric fireplaces and heaters bring the magic of real flame effects to any living space. Using state-of-the-art design techniques, our extensive collection of electric fireplaces are simple to install, efficient, easy to control and don't require a flue.
Wood Fires
There's nothing like the soothing crackle, natural beauty and gentle aroma of a real wood fireplace –that's why humans have been drawn to fire for thousands of years. At Ignite Fireplace Studio, our brands harness the most innovative design techniques to ensure kiwi homes can enjoy this traditional and efficient heating method.